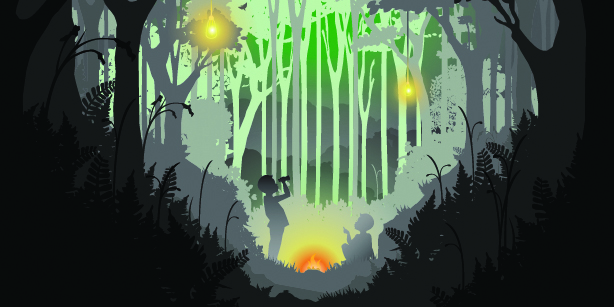 Kilter Theatre presents
The Darkling Society
A Play. Outside. After Dark.
Stay up late tonight, pack a torch, and make a pilgrimage into the great outdoors. As the sun sets over Bath, join a band of musicians and outsiders for an expedition like no other! Cosy up as darkness falls and watch the wonder and wisdom of the night unfold before your very eyes!
Curious siblings Lina & Hersch adventure to this secret sanctuary every night. Here they try to make sense of their topsy-turvy world but can they find solace in the quiet comforting darkness? What are they running from and who really are The Darklings? Tonight they will tell their remarkable tale! Gates open at 19.30 - come along early for a picnic.
Inspired by William & Caroline Herschel, Bath's 18th Century immigrant astronomers, Kilter will enchant audiences of all ages with their irresistible style, pedal organ, cycle generators, moths-lures & bat-detectors!
Kilter's touring show, The Last Post (performed in the back of a lorry), received plaudits and rave reviews on it's Sold Out Nationwide Tour (2012-16). Kilter are well known for their 5* devised performances in unusual locations from allotments to cycle paths and cemeteries! Catch their new work while you can!
"Utterly charming; tender, funny, wistful." Exeunt Magazine of The Last Post, 2014
Sponsored by Arts Council England, CreativeFund Theatre Royal Bath, Bath Fringe: www.theatreroyal.org.uk/page/3828/Creative-Fund www.artscouncil.org.uk/
Dress for the weather. Limited capacity so book early!