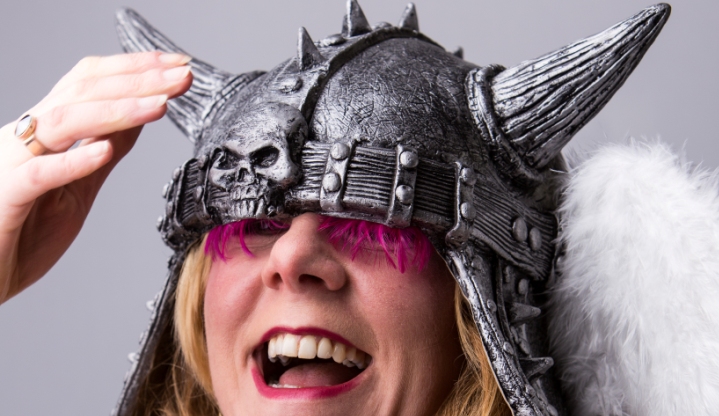 Fri 3 June 2016
Angie Belcher's Mythical Creature
"Equally at home on the stand-up circuit as in a posh tent at a literature festival, Angie (finalist Best female comedian 2015, What The Frock and best spoken word show 2015, North East Theatre Review) presents naughty stanzas and awkward stories. An accomplished comedy performer this is her second Edinburgh show. "Highly Recommended, go see her" Phil Jupitus. . Angie is supported by Odious Vex and Robert Garnham"
What happens when your perfect world ideal fails to materialise? Angie found her diary from aged 12 and lamented on how her life has turned out pretty differently from the possibility filled pages of her early aspirations. But then these days with social media and online profiles we are constantly inventing myths about ourselves. Join her on a journey of stories, poetry and comedy, Angie reflects on the nature of ambition and failure. Includes new poem, Ode to Aldi.
Angie is supported by Odious Vex her 17 yr-old male alter-ego and by Robert Garnham (Multiple slam champion, Professor of Whimsy and consumer of biscuits, Robert Garnham mixes elements of comedy with occasional rhyming, and a kind of muted disdain about the quirkiness of everyday life. His first collection 'Nice' has recently been published by Burning Eye Books.)

"Angie Belcher is just as suited for a comedy night as she is for a poetry event; from the moment Angie takes to the stage every line she delivers is crude, funny and instantly relatable and quite simply fun to watch. She is charming, silly and makes honest and awkward observation. At every point during her set you're either laughing or catching your breath in preparation for the next fit of giggles." Tara Pilkington, Apples and Snakes 2015
"The perfect start to the festival...sharp, observational material I could relate to" North East Theatre Guide.
We regret that there is no wheelchair access to this part of the venue.
Tickets available on the door and from:

Bath Box Office (Tel. 01225 463362)
BOOK NOW