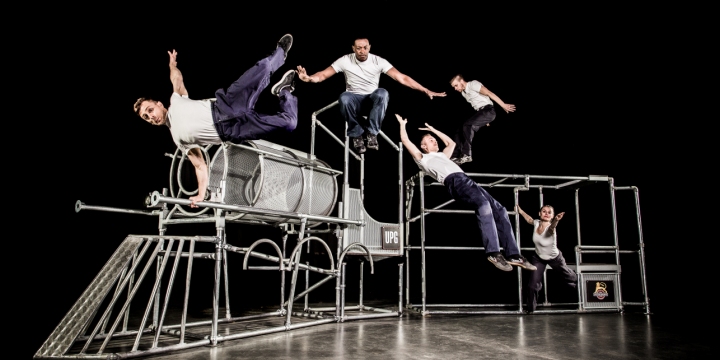 Urban Playground & Friends
Wed 1 June 2016
Steam Local Line
The Community Show
The Urban Playground Team are the original performance-parkour (2PK) company combining urban & contemporary dance with authentic French Free-Running. The Team have toured their performances and teaching across five continents for clients including the British Council. Since 2006 the team has included co-creator of Parkour Malik Diouf. In 2009 the Team designed and opened the UK's first permanent parkour site, and have since launched two more. In 2013 they founded the international performance-parkour network to support the development of 2PK globally. They have appeared on BBC1's Blue Peter and Sky1's Got To Dance.
Steam is a touring performance, in which a group of urban explorers discover, beneath canvas tarps, the skeletal remains of a machine that changed the world. Inspired, they shovel coal on the fires of the past. Engineers and drivers hurry to work at the sounds of a whistle's blast, and the passengers begin to dance. Inspired by classic movie genre Steam takes the UPG Team on a whistle stop tour through silent movies, the Wild West, James Bond, WWI and the dark future of inner city commuting…
his version is extended by the addition of performers from the community (especially along the line of the old Somerset & Dorset Railway which started here in Green Park Station) who have been working with either the Urban Playground Team or Bath's own Natural Theatre.
Venue: Green Park Station
Performance

Wednesday 1st June 2016

Price: Free
Start time: 17:00
Extra info: The event begins at 5pm but there will be music and other performance during the evening so don't worry if - like the train - you may be running late.
Add to your calender

Venue access: Full wheelchair access