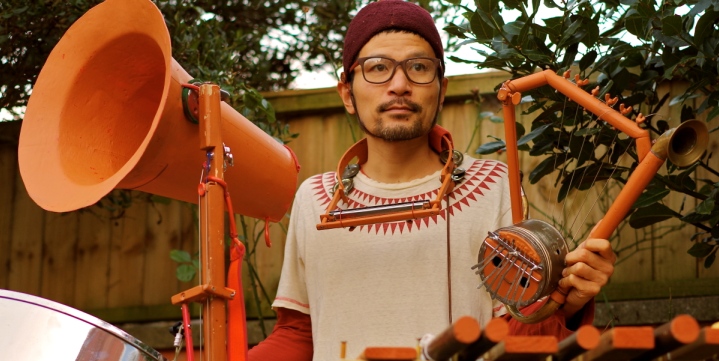 Fri 10 June 2016
Ichi meets Kid Carpet
ICHI
"What on earth is this?! It`s brilliant!" - Steve Lamacq
"It's the kind of idiosyncrasy that cult fan-bases are built on, and you can't help but feel it couldn't have come from anywhere but the land of the rising sun." - Venue Magazine
ICHI, from Nagoya in Japan, takes the notion of a one-man band to new limits, combining his quirky handmade instrument inventions (Stilt-bass, Kalilaphone, Balloon-pipes, Hatbox-pedal-drum, Tapumpet, Percussion-shoes & Hat-trick-hat) with steel-drum, ping-pong balls, toys & everyday bjects all in the space of one short set. Somehow there's an ancient, ritualistic feel to his performances – he's like the misplaced leader of a tribe. To see ICHI live is to witness something so playful and unusual you know that you're experiencing something entirely new. It's fun, it's danceable, it's exciting.
Also a practicing and exhibiting artist and film-maker, ICHI is usually seen with a cine camera in his hand, or his hands rooting through Bristol skips for materials for his musical and sculptural inventions.

Kid Carpet
Ed Patrick was a normal young man who lived in Bristol and aspired to be a musician. Until he went to his local car boot sale with a ten pound note and returned with a plastic guitar, a child's keyboard and a toy tape deck. He put his name into an online anagram generating machine and Kid Carpet was born.
Kid Carpet began making music with old keyboards, toys, computers, a sellotaped up broken electric guitar and a punk rock DIY attitude. After performing at a few music events recently he has the bug again and wants to rock out.
Kid Carpet also does theatre shows for kids, composes music for TV, film, theatre and games, performs in work for others and has presented a TV show for the BBC whilst maintaining a casual approach to performance, work, haircuts and life in general.

The combination of these unique talents could be the most out-there night of the Fringe!
Tickets available on the door and from:

Bath Box Office (Tel. 01225 463362)
BOOK NOW