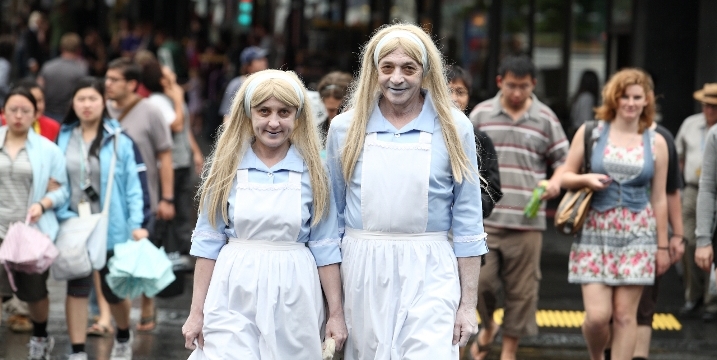 Streats Ltd. & Bath Fringe
Bedlam Fair
The Fringe's Street Arts weekend is returning to the city centre on Saturday afternoon and then heads to Green Park Station to continue our railway theme. On Sunday we'll be dodging between the building works and confused traffic in SawClose and Kingsmead Square. See link to flyer at the bottom of the page for more details.
This year's acts are:
BERTIE BOULEVARD
Bertie is an openhearted idiot who thinks everything is brilliant. He wants to play and entertain everybody with music, magic & his alter-ego.
BONGO BOLERO : Fat Cat
Come take a gamble with Fat Cat, an oversized wibbly wobbly cat who is out to see what he can get from you.
DESPERATE MEN : Slapstick & Slaughter
Two men recklessly attempt to confront the absurdity of war in just 35 minutes, using their bodies, their voices and the surrealist toolbox of DADAism.
CIRCOMEDIA
Bristol circus school students light up Bedlam with new shows that display the amazing skills they have been honing throughout the year.
COCO LOCO
From a world where Alice in Wonderland meets Clockwork Orange, Cocoloco presents raucous, hilarious and ever so slightly bent theatre.
COUNTERFEIT THEATRE : Nude Life Drawing
A cheeky look into world of Life Drawing artists and models.
GWEN SCOTT : Bampot
Tartan to the knickers, Morag McTavish will dazzle you with historical re-enactment, cultural spectacle and dubiously sourced facts....if you can understand her accent...
La BRIGATA & SIDEWALK DANCE : Lost
Embodying the concept of displaced children whose troubled yet playful cries echo down from days gone by to current times.
MUSEUM OF MEMORIES
Explore the curious travelling museum, and share collected memories and histories from the Somerset & Dorset Railway, which used to run from Bath to Bournemouth.
RAMSHACKLICIOUS : Mr and Mr Burn
Meet Mr. & Mr. Burn - creating a world of surprises where anything can and will go wrong!
SARAH McCLUSKEY
Queenie the Eco-Cleaner wishes to clean up our environments - while entertaining audiences with the reminiscences of scrubbing the Lino of lesser known celebrities.
SARAH SLATER : Sam I am.
Simple, classic and dignified clowning - with enough silliness and foolery' specialy with that comedy folding bike!
SOLO 20x4
SoloLive20x4 showcases the work of hitherto lonely solo live artists. With no theme restriction they will present a disparate array of food for thought plus a few giggles.
STREET TO THE POINT
Bring more innovative and unique family friendly and interactive performances that encourage the audience to have as much fun as possible.
The PORTABLE ZEBRA CROSSING Association
We will be laying down our portable Zebra Crossing and inviting you to walk across, relishing a special moment of human interaction with a wave, nod or smile to the drivers.
Sponsored by Arts Council England; Green Park Brasserie: www.greenparkbrasserie.com
Performances
Saturday 4th June 2016
Price: Free
Start time: 12:00
Add to your calender
Venue access: Please call in advance for wheelchair access requirements

Price: Free
Start time: 15:00
Add to your calender
Venue access: Full wheelchair access

Sunday 5th June 2016
Price: Free
Start time: 12:30
Add to your calender
Venue access: Full wheelchair access