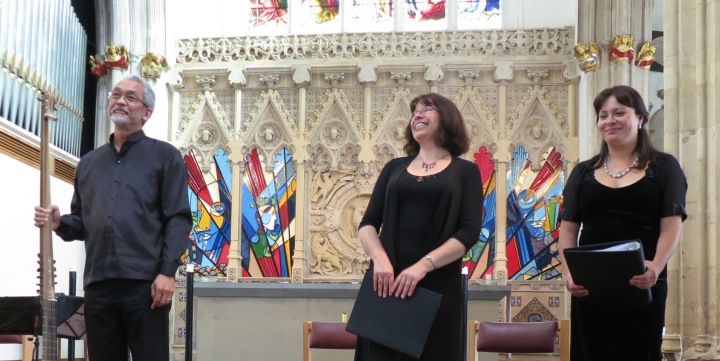 Musicke in the Ayre presents
Fri 10 June 2016
Grounds for Double Delight
songs & duets based on 17th century
Wash away the week's woes and worries with an early-evening chill-out in the lovely acoustic of the Countess of Huntingdon's Chapel, which houses the Museum of Bath Architecture. Two sopranos and early plucked strings bring to life early Baroque masterpieces by Monteverdi, Purcell, Lambert and Legrenzi, which show how simple, repetitive, wide-known musical patterns ("grounds") can give rise to impressive, affecting, and memorable pieces of music. The popularity of grounds similar to the Folia, Ciaccona, Passacaglia and their variants persist to the modern age, as lovers of jazz and the blues will know.

Maria Danishvar Brown and Jane Hunt are accompanied by director Din Ghani on lute, archlute and baroque guitar. It should be pointed out that this is a duet version of the "Grounds for Delight" programme previously performed by Jane and Din at the Museum of Bath Architecture in April, and elsewhere; although the programmes have the same basis, the repertoire available is wide enough to avoid any overlaps between the two.

This concert is the first in Musicke in the Ayre's summer season of early evening concerts at the Chapel, on the 2nd Friday of each month.
WARNING: HIGH RISK OF EARWORMS!

To book contact Jill Hunter on 01225 333895 or jhunter@bptrust.org.uk
Tickets available on the door