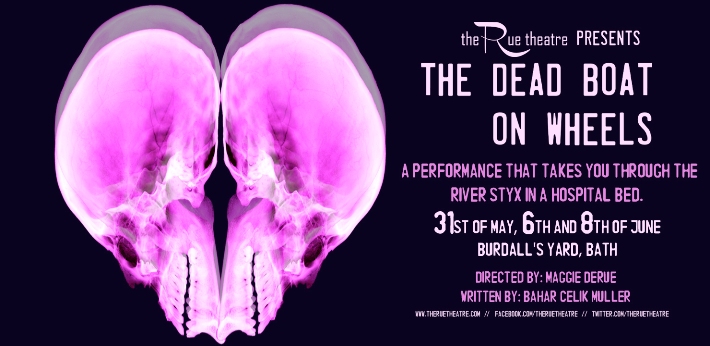 The Rue Theatre presents
The Dead Boat On Wheels
The Dead Boat On Wheels is a performance created by The Rue Theatre, a new Bath based community theatre company.

The Dead Boat On Wheels follows a fictional story, but is based on real events and the research of an arts facilitator who worked with terminally patients. The performance faces questions surrounding death and opens up the conversation about death and bereavement in a medicalized world.

The story is set in the 1980s when Art Facilitation & Reminiscence theatre within care facilities first started to thrive. John lays in a hospital bed surrounded by white walls and bleeping machines. The only thing he still owns is a painting of Charon (the ferry man of Hades). One day a girl named Alice walks into his hospital room with a bouquet of paper flowers. Alice helps John to reunite with his children, the painting of Charon and his memories before his last breath. Little does John know that Alice is here to guide him to a 'Good Death'.

Venue: Burdall's Yard
Performances

Tuesday 31st May 2016

Price: £7 (Full Price) £5(Concessions) £3(Bath Spa Students)
Start time: 20:00
Extra info: 12+
Add to your calender

Venue access: Full wheelchair access


Monday 6th June 2016

Price: £7 (Full Price) £5(Concessions) £3(Bath Spa Students)
Start time: 18:00
Extra info: 12+
Add to your calender

Venue access: Full wheelchair access


Wednesday 8th June 2016

Price: £7 (Full Price) £5(Concessions) £3(Bath Spa Students)
Start time: 20:00
Extra info: 12+, Seminar Afterwards
Add to your calender

Venue access: Full wheelchair access

Tickets available on the door and from:

BOOK NOW