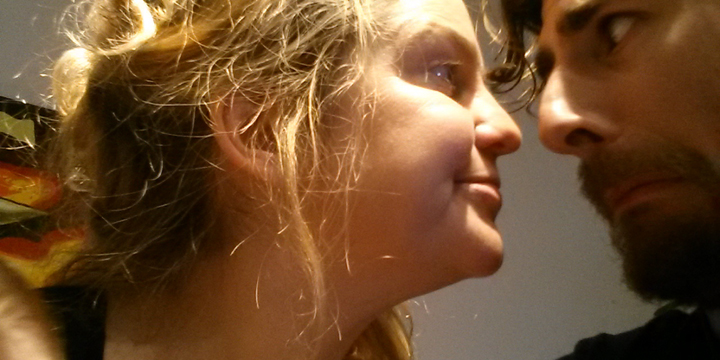 Spontaneous Theatre Company presents
Hippocrite
with Lindsey Garwood and Nathan Keates
Spontaneous Theatre Company premieres its devised theatrical production Hippocrite, a folly about a two-headed hippopotamus and the discoveries it makes. The playful, fun-loving animal clowns around with itself and the audience, opposing and agreeing with itself in swings of altering moods. Hippos are beautiful, yet deadly creatures - their aggression often comes from a need for self-defense, like humans, but also like humans, this is not the only reason hippos are aggressive. Our two-headed hippopotamus is a hypocrite.

This interactive family-friendly show is a light look at who we are as human beings. The playful Lindsey Garwood and Nathan Keates shall take you through a hippopotamus world that is just like our own. Â  This funny and immersive piece of live theatre highlights the different elements that make up a person. It displays how we do and do not acknowledge this, how we often are not even aware of all of our contrary natures. We portray the inner-turmoil; the lies, contradictions in action and words and more. We use liveness to interact with people - with splendid theatricality, comedic turns and musical moments to entertain and provoke. Hippocrite does all of this in a funny and thoroughly engaging manner, taking the whole audience along for the ride.

The production was devised by Nathan Keates and Lindsey Garwood. Keates has toured productions around the world to Ireland, Estonia and more. He has focused on liveness in theatre, both professionally and as part of work with the community, as a director and a performer. Keates has created clown productions that were performed in London and Edinburgh and has also worked as a teacher of theatre in the UK and around the world. Lindsey Garwood is an established cast member of Closer Each Day, Bristol's long-running improvised soap opera. She has been involved with various productions of improvised theatre, covering everything from musicals to cosmic horror, in Bristol, Cambridge, the USA and Spain. She has also performed in classical theatre in London and co-hosted a pirate radio station in Spain as well as writing and directing.
Tickets available on the door and from:

BOOK NOW