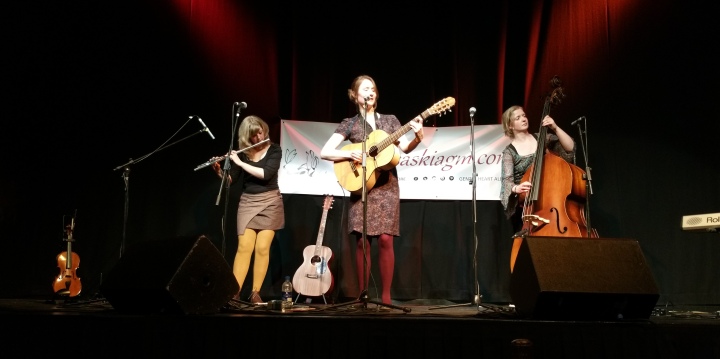 Fri 3 June 2016
The Saskia Griffiths-Moore Trio
with support from 'Johns and Nowak'
The Saskia Griffiths-Moore trio perform heartfelt atmospheric folk/pop, passionately sung over classical and acoustic instruments. The all female Bristol based trio are being supported by a local Americana duo, Johns and Nowak. Expect a night of engaging songs, captivating instrumentation and crystal clear vocals.

Frequently compared to Joan Baez and Eva Cassidy for her enchanting tones, creative melodies and her perfect, natural sound, Saskia's original songs draw on the genre's of Americana, roots & darker folk music. They are at once thoughtful, mesmerizing and stunningly beautiful, delivered with humour and style.

Saskia is an independent British artist supported by the Arts Council England, and has sung to thousands of people in the last few months as she continues to tour her debut album 'Gentle Heart'.

"…a fine singer-songwriter…wonderful voice and great guitar playing" Johnny Coppin, BBC Radio Gloucestershire.
"...it was this heart-on-your-sleeve style that soon drew in the audience..." Sophia Mosley, Marine Theatre 'Backstage'

Saskia and her trio have become sought after in their local area, and all over Gloucestershire, and they tour the folk & acoustic scene year round.
Tickets available on the door and from:

Bath Box Office (Tel. 01225 463362)
BOOK NOW