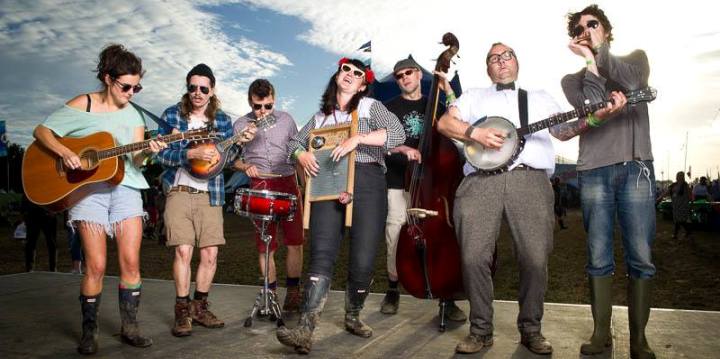 Tue 31 May 2016
Screamin' Miss Jackson and the Slap Ya Mama Big Band
Bristolian 7 piece Screamin' Miss Jackson and the Slap Ya Mama Big Band draw influence from such diverse players such as early bluesman Casey Bill Weldon, Tampa Red and the wonderful Memphis Minnie, 20's and 30's Jazz singers like Georgia White, Anita Carter or Lil Hadin, the western swing feel of The Texas Playboys and finally mixing all that up with the country folk of Doc Watson. Whether it's their own original tunes or their own unique take on an early classic the energy and passion all seven have for the music is more than apparent.
2014 saw them announce themselves properly releasing their first EP on Little Paradise records in May before going on to play Glastonbury, Boomtown, Bearded Theory, Grillstock, Outwest, Holifair, Funny as Folk, Glastnost, Stagfest and Free for All Festival. On top of this they supported the likes of Reverend Peyton and the Big Damn Band, The Wiyo's, Rob Heron and the Tea Pad Orchestra, The Corn Potato String Band and The Black Twig Pickers.
In 2015 they kept this momentum going, booked for and returning to Glastonbury, Boomtown, Mischief, and OUTwest and making their debuts at Wilderness, Fire in the Mountain and Wonkydonk amongst many others.

Tickets available on the door and from:

Bath Box Office (Tel. 01225 463362)
BOOK NOW